They say your school days are the happiest days of your life. Although you do not realise it at the time, after the trials and tribulations of adult life, school days, where your only worries are getting through the course and passing exams, now seem blissfully easy.

My secondary education was at Chelmsford Technical High School between 1967 and 1974. It was a good school offering the potential to obtain "O" and "A" levels in a variety of subjects.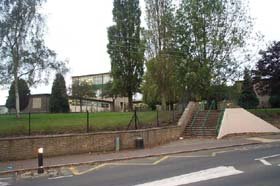 School Reunion Every year the Chelmer Valley Old Student's Association holds a reunion for ex-pupils of the school, and of schools that eventually became C.T.H.S. This year, for the first time, the reunion was held in the Hall of C.T.H.S, and I thought when I first heard of this last November, that it would be an ideal opportunity to track down some of my old school colleagues, and meet again for the first time after a quarter of a century in the old school building.
I started in November 2000, writing to the few people that I knew. I researched telephone directories, the Internet, and had a photograph and article published in the local paper. Many people who I wrote to gave me the names and addresses of others from our year, and so the net was cast even wider.
By the time of the reunion in October 2001, I had contacted 49 people, and 28 of those had ordered tickets for the reunion.
13th October 2001. A momentous day that saw 30 of the Class of '67 assemble in the Hall of their old school. Some people were instantly recognisable, not having changed in the intervening 27 years. Many stories were exchanged, and old acquaintances renewed. The four hours of the reunion passed all too quickly, but not before some "Form" photographs had been taken, together with a group of us all. The last to leave the reunion were members of the Class of '67, and we are all looking forward to next year.
To see some of the photographs taken at the reunion, and some from school days, please click on the Photo Album